What's Hot? Fashion.
Butterbeer necklace and earring set.
Some of you may remember that I did a Harry Potter themed giveaway a while back and this cute Butterbeer jewellery set was up for grabs. At the end of the giveaway, the lovely Kyra from
HearHoofBeatsThinkZebras Jewellery
sent me a necklace and earring set as a thank you so in return I'm going to do a short review of them :)
Firstly, the delivery was super speedy. I think I received the jewellery the day after they were sent out which is great! I hate waiting around for things I've ordered and I always panic that they've gotten lost in the post somewhere so I appreciated the speediness. The pieces were packaged in a cute little drawstring bag which makes this perfect to give away as a gift. The envelope that they were sent in was small and lined with bubblewrap so I wouldn't worry about leakages or the bottles smashing during delivery.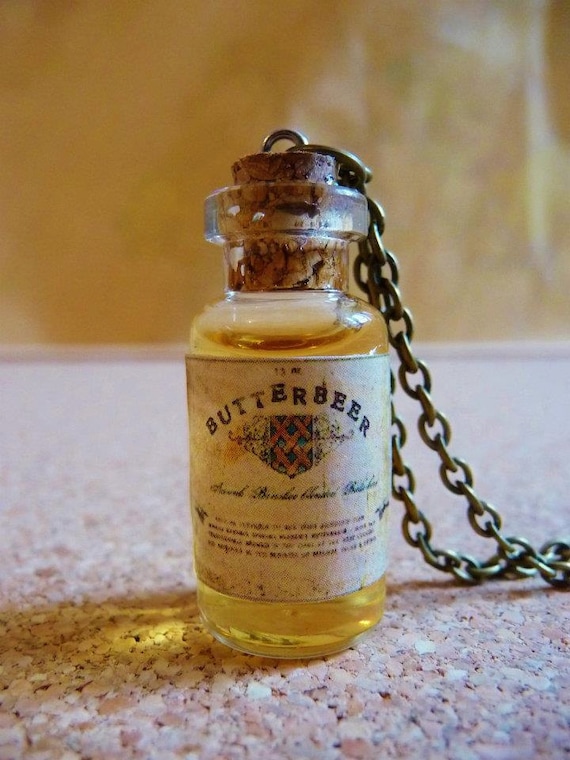 As you can see from the picture above, there are two designs that you can choose from. I preferred the design on the right because I thought it looked a bit more old school and authentic so I picked that one, but apparently the one on the left is the more popular option. The bottle is really small and oh so cute. It measures about 3.5cm high by 1.6cm wide, which is the perfect size so it's not too big, but not too small. You also get to choose what sort of chain you'd like with either an antique gold or silver one available. Personally, I prefer the gold one because it matches the colour of the liquid nicely and makes it look more antique. The chain is an average length and when I wear the necklace, the bottle sits a few cm above where my ribcage begins. The design is simply stuck onto the bottle, but I've had mine for quite a while now and it's still firmly stuck down so don't worry about it peeling off after a few days. I love that the design is really authentic looking as there has never been an actual shot of a Butterbeer bottle label in any Harry Potter film. Even though the design is a sticker, you wouldn't notice this and there's no trace of modernity.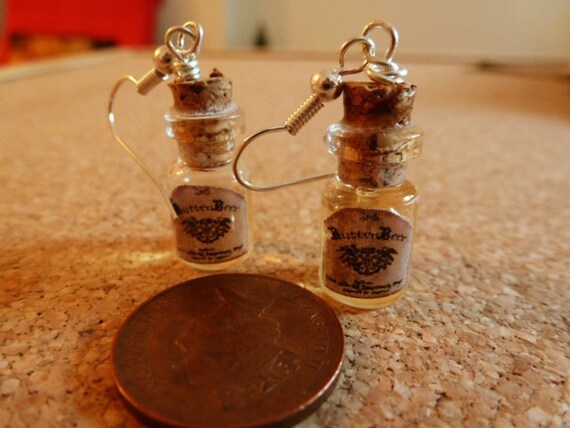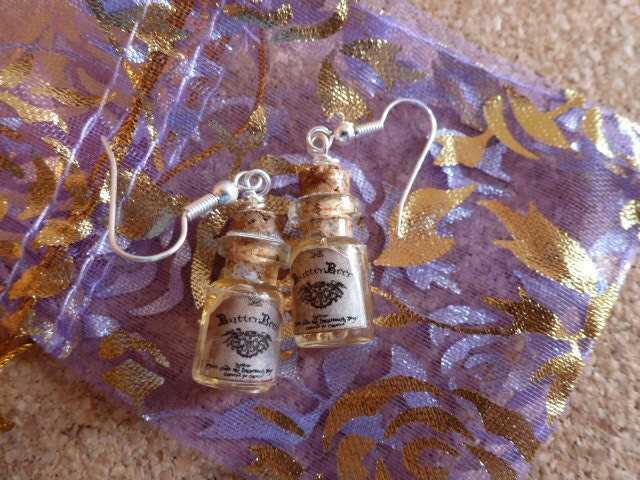 The earrings are even tinier than the necklace and they're absolutely adorable. As you can see from the picture, they are even smaller than a two pence coin so when I say tiny, I mean tiny! The bottles are both really light so you don't need to worry about them dragging your ears down. The design on the earring bottle is exactly the same as the one on the necklace, just a lot smaller, so they really do match. I was worried that I'd look a bit weird with tiny Butterbeer bottles dangling from my ears, but because they're so small, it actually looks okay. Plus, quirky = cool! I don't usually wear my earrings and necklace at the same time because I think that's a bit OTT but they're brilliant for any outfit. I was really worried that the liquid would come pouring out every time that I moved my head, but thankfully the little cork is very securely glued in so there's no need to worry about this.
If you're a Potterhead, then I'd really recommend you check out
HearHoofBeatsThinkZebras Jewellery
on Etsy for some cool and quirky jewellery that you can wear out everyday. Every time that I've worn these pieces, I've been complimented by my friends, and when I tell them that they are in fact tiny Butterbeer bottles, everyone gets super jel. If you're not that into Harry Potter, but your friends are, then I guarantee that this will be the perfect gift! They're cute and wearable so you can show your appreciation for Harry Potter without looking too geeky - a win win!
So, if you missed out on the opportunity to win these before then head on over to Kyra's shop on Etsy and buy this cute little set for yourself :) Also, if you didn't see my review of the Harry Potter Studio Tour before, you can find it
here
.
{ Fashion//Beauty Reviews } , Butterbeer , Etsy , Giveaway , Harry Potter , Harry Potter Studio Tour