{Author Interview}

Infinite Sacrifice by L.E. Waters.
Title:
Infinite Sacrifice
Genre:
Fantasy, Historical fiction, Reincarnation Fantasy
Publisher:
Rock Castle Publishing
"Maya's shocked to discover it's not the heaven she imagined; in fact, a life of adventure begins the moment you die.
Zachariah, her faithful spirit guide, explains the rules of the dead: in order to regain complete awareness and reunite with loved ones all souls must review their previous lives.
Maya plunges warily into her turbulent pasts as a sociopathic High Priest in ancient Egypt; an independent mother protecting a dangerous secret in glorious Sparta; an Irish boy kidnapped and enslaved by Vikings; and a doctor's wife forced to make an ethical stand in plague-ridden England.
All the while, Maya yearns to be with those she cares about most and worries that she hasn't learned all of heaven's most vital lessons. Will she be forced to leave the tranquility of heaven to survive yet another painful and tumultuous life? Or worse, accept the bitter reality of having to go back alone?"
Excerpt:
"He dies before dawn. Covering him with a shroud, I tuck a coin in his hand for burial. I take a black flag from a vacant house to signal Ulric. Instead of returning to the abbey, I walk down to the river to watch the sunrise. A cold breeze blows, and I pull my hands within the fluted sleeves of my cloak. The giant sun breaks the horizon with an ember glow, causing everything around me to burn red. Even the river shimmers crimson. Something catches my eye—objects drifting on the surface, breaking the reflection of the water in flashes. I bring my hand up to shield the glare, and I'm horrified to see dozens of naked, bloated, blue bodies floating down the Thames.
I turn to walk home as someone screams out, shattering the silence of the city, "The Apocalypse is here!"
About the Author:
L.E. is the author of two novels of the Infinite Series-a reincarnation fantasy saga. She received her degree in Animal Behavior, which to her father's prediction, she only uses to raise her two children and menagerie of animals. She loves so many things and now writing is the passion keeping her up at night and her excuse for not cleaning the house.
Author Interview:
1. What inspired you to be a writer?
Many say, "Write the books you want to read" and for years, I wished that someone would release a book or movie that explored the possibilities of reincarnation. I came across a few reincarnation books that centered on star-crossed young soul mates with only flashbacks of one other past life. I yearned for one that dug deep into all of the intricacies of many lives and many relationships. I wanted it to feel real. Therefore, I decided that I would write it.
2. If you weren't a writer, what would you be?
I would be spending my extra time rehabilitating wild animals. There's a wonderful wildlife center nearby and I've toyed with the idea of writing less so I can donate more time to them. Someday in the future I might be able to manage both :)
3. Which author, if any, would you compare yourself to?
There are plenty of authors that I wished I was compared to but, honestly, I haven't set out to mimic any other authors. There are many authors I idealize and I hope I've learned some skills from, but I've always set out to find my voice as a writer.
4. What tips could you give to any budding young writers?
Write what you love and know. Then take workshops, attend writing conferences, and allow people to help you hone your craft. Do it because you love it and only for that reason.
5. What's your all time favourite book and why?
The Lord of the Rings. It is one of the only books (series) that I can re-read and I love everything about them. Well, maybe I could have done without all the genealogy, but still, nothing comes close to Tolkien.
6. If you were a character in a book, who would you be and why?
Hermione Granger. I envy her quick wit and pop-up video knowledge. She is loyal, strong, courageous, and falls in love with Ron for all the right reasons. Plus, I really want an owl to drop me a letter so I can go to Hogwarts someday.
7. What inspired you to write Infinite Sacrifice?
Reincarnation has always fascinated me, partly from my curiosity for new age concepts and my draw to historic time periods. Now throw in the ability to leap through time with the same evolving group of characters, and bam…inspiration ignited and spread to the creation of the Infinite Series.
8. Do you, personally, believe that there is life after death?
Yes I do. I'm not sure what sort of life exactly, but I have had many experiences which has lead me to believe that there is some part of us that survives death (I'm saving all those stories for another book ;))
9. What are you working on next?
I'm knee-deep in the third book of the series, Infinite Loss. I'm hoping to publish it by January.
10. And lastly, just for fun, if you were a biscuit, what sort of biscuit would you be?
At first I thought, aren't there only buttermilk biscuits? And then I remembered that a biscuit is a cookie in England! I would be chocolate chip cookie with walnuts—something traditional and classic but a little nuts :)
So I decided to take part in a last minute blog tour and I sure am glad I did because this interviews contains the three things I love most: Harry Potter, Lord of the Rings and (most importantly, of course) cookies! Many thanks to L.E. Waters for taking the time to answer these questions and for providing and insightful, but also humorous, interview! :)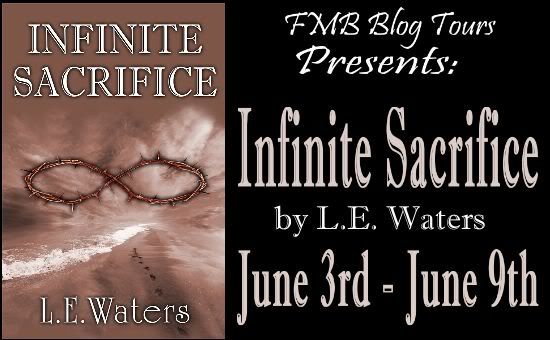 { Author Interview } , Author Interview , Book Tour , Fantasy , Historical Fiction , Infinite Sacrifice , L.E. Waters , Promo Post , Reincarnation Fantasy , Rock Castle Publishing