Outnumbered Series 4.


The popular British sitcom, Outnumbered, returns for a fourth series tonight, the 2nd of September 2011, on BBC1. For those of you who don't know, Outnumbered revolves around the lives of a family of five - mother, father, two sons (aged 12 and 15) and a daughter (aged 10) - starring comedian Hugh Dennis, Claire Skinner with Tyger Drew-Honey, Daniel Roche and Ramona Marquez playing the kids. This is a perfectly normal family, there's nothing special about them, but the daily goings on in their lives are just hilarious.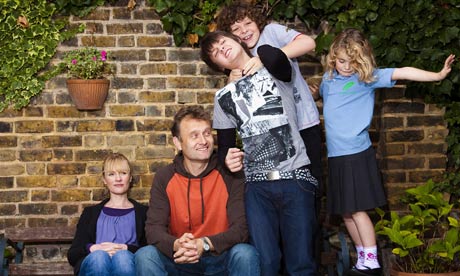 What's great about this show is that there are no embellishments, this is pretty much what a typical, British, family of five lives like. The three children each have different characters, all contributing to the stresses and strains on their parents lives. Jake, the eldest, is your typical troublesome teenager who's starting to experiment and is acting up a bit. He also seems quite obsessed with girls which deeply troubles his mother. Ben is 12 years old and he really is quite an odd child. He does the strangest things for no aparent reason and in addition he's a pathological liar. I'd definitely say Ben was the weirdest and probably the most tiresome child out of the three. The youngest is Karen, a very inquisitive 10 year old girl who literally questions everything - much to the annoyance of her parents. As expected, the USA have created their own version of Outnumbered (do they have to steal everything good about being British?!) but an air date has not yet been set.
Outnumbered is one of my all time favourite comedies and it's one for all the family. Parents will be able to sympathise with Pete and Sue, whilst children will find the antics of Jake, Ben and Karen hilarious, and they may even be inspired! If you haven't watched any episodes of Outnumbered then I highly recommend you start now! If you want to catch up on all the previous episodes, you'll be glad to know there are only around 23 (including the specials), each of which is only half an hour long. If not, series 4 is as good a place to start as any as you don't need any background knowledge, just enjoy the comedy!
Catch Outnumbered on BBC1 every Friday night at 9pm!
{ TV Reviews } , BBC , Ben , British comedy , British TV , Claire Skinner , Comedy TV , Daniel Roche , family , Hugh Dennis , Jake , Karen , Outnumbered , Sitcom TV , Tyger Drew-Honey