Whats Hot? TV.
Made In Chelsea.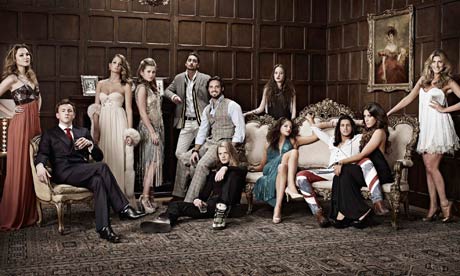 There's something very 'Gossip Girl' about this picture, don't you think?
I finally decided to step into the realms of reality TV and so I spent an entire day watching series 1 of Made In Chelsea (MIC). My reasons for picking Made in Chelsea over The Only Way Is Essex (TOWIE) isn't exactly sensical (yes, I'm making sensical a word) but oh well. Firstly I picked Made In Chelsea because it is considerably shorter than The Only Way Is Essex with only eight episodes as opposed to twenty five. My second reason is because I saw Ollie from Made In Chelsea walk down the red carpet at the Harry Potter premiere in a Union Jack suit, which I thought was incredibly cool and snazzy. Thirdly (also Harry Potter related, as most of my life is) I saw a character from The Only Way Is Essex being interviewed on '50 Greatest Moments of Harry Potter' and I thought that it was quite insulting to use a character from a reality TV show in a programme supposedly honouring Harry Potter.
Yes, Made In Chelsea is exactly what it looks like, a useless show that follows the lives of London's young 'elite'. That's not to say it isn't entertaining though, because it is. There is a reason that Big Brother carried on for 22 series (including spin-offs) and that reality TV shows are being produced. For some unfathomable reason, the British public
love
watching the lives of complete and utter strangers. There had been quite a lot of rivalry between The Only Way Is Essex and Made In Chelsea because essentially they are the same show, except the kids (okay, I probably shouldn't call them kids, so '
adults'
) in Made In Chelsea are a lot richer, are a lot less orange and dress a lot better. A lot of people say that The Only Way Is Essex is the better of the two, I wouldn't know because I haven't watched it yet, but if that is the case, The Only Way Is Essex must be bloody brilliant (quote Ron Weasley) because Made In Chelsea kept my bottom glued to my seat and my eyes glued to the screen for an entire eight hours straight.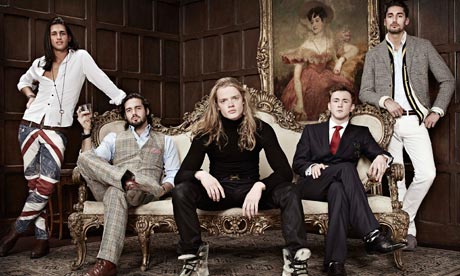 The Boys.
I have to say for the first few episodes I literally had to keep pressing pause every 5 seconds so I could laugh it all out before continuing. Some of the things that these people is hilarious. Okay maybe it's not hilarious, but I couldn't believe how
dumb
some of the things they say are. Some of my favourite quotes are: 'Who wrote Winnie The Pooh? Was it Jane Austen?', 'I sometimes enjoy the smell of cow s***' and 'Do I look like Jesus?'. I don't really know how to continue without sounding like a pretentious twit but I was genuinely shocked by the stupidity of some of the characters. Each and every character is different and offers something different to the group. Some of them are extremely well educated and although they were clearly born into rich families they still have (
very
well paid) jobs, cough, Francis, the diamond entrepreneur, cough. Actually what surprised me was that all the characters had jobs that they're all very good at and all earn a lot of money doing them.
Here's a list of characters and their jobs (courtesy of Wikipedia):
| Cast member | Age | Job | Series(s) |
| --- | --- | --- | --- |
| Catherine 'Caggie' Dunlop | 21 | Singer/songwriter | 1 |
| Spencer Matthews | 22 | Broker | 1 |
| Hugo Taylor | 24 | Head of PR | 1 |
| Camilla 'Millie' Macintosh | 24 | Make-up artist | 1 |
| Amber Atherton | 19 | Jewellery boutique owner | 1 |
| Rosie Fortescue | 21 | Student | 1 |
| Ollie Locke | 24 | 'Whiskey Mist' VIP host | 1 |
| Gabriella Ellis | 24 | Musician | 1 |
| Alexandra 'Binky' Felstead | 20 | Investment front of house | 1 |
| Francesca 'Cheska' Hull | 25 | Blog author | 1 |
| Francis Maximilien Yvan Christophe Boulle | 22 | Diamond entrepreneur | 1 |
| Fredrik Ferrier | 21 | Model | 1 |
I guess one of the most important thing about shows like this is whether or not the show actually looks real. There has been much speculation as to whether the producers of reality TV shows tell certain characters to do certain things to increase the ratings and even though the production companies all deny it, I cannot believe that every single moment of this shows is real. For one, there are some extremely long pauses in the middle of conversations, which are
really
odd, as if someone is waiting for someone else to speak. Here's an interesting article from the Made In Chelsea wrap party that suggests that a lot of the 'screenplay' is fake (SPOILER ALERT):
Metro: MIC wrap party
.
Made in Chelsea mainly revolves around Caggie and Spencer who have been friends for a very long time but seem to have feelings for each other that neither have acted upon. Things start to get interesting when Spencer's girlfriend asks to meet Caggie, I guess from then on, all hell breaks loose. It's interesting to see the different relationships between characters grow and change. Expect plenty of bitching from the girls
and
boys, fabulous dresses to exclusive events, fast cars, rocky relationships, love triangles, you know, the usual.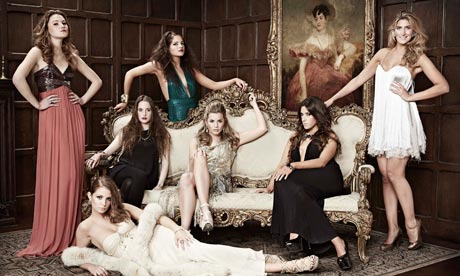 The Girls.
If you're a fan of The Only Way Is Essex, then I think this is something that you'd definitely like, if you've never watched reality TV because you think it is pointless and tacky, I think you'll still find this entertaining, it can be your one guilty pleasure. If you're looking for an escape from the drama of your life, step into theirs, and watch Made In Chelsea.
And finally I'll leave you with Caggie's opening words:
'You may have heard rumours that Chelsea is an exclusive world of royals, aristocrats and playboys. Where the gossip is as startling as the prices. Well it's all true, and I'd know. I'm Caggie Dunlop and this is my world. You might say that we've got it all, but having whatever you want can make choosing that much more tricky. In Chelsea the truth is more fabulous than fiction. This is our life.'
—Caggie, the opening scene
Perhaps I'll do a Made In Chelsea vs. The Only Way Is Essex post in the future ... let me know if you'd like this :)
{ TV Reviews } , Binky , British TV , Caggie , Cheska , Hugo , Made In Chelsea , Millie , Ollie Locke , reality tv , Spencer