Forever 21 opens on Oxford Street.
Exactly one week ago, popular American store, Forever 21, opened it's doors on Oxford Street, London. Often deemed the Primark of the big US I was curious to see what the prices would be like in London after they had been converted from dollars to pounds and I have to say I was quite impressed. I assumed that being an American shop the prices would rise considerably as they moved across the ocean and it would end up being more like Hollister rather than Primark; however, I was quite surprised to find that the prices were still reasonable and quite low considering the quality. Unfortunately the prices aren't as low as they are in Primark, but the quality and design of the clothes and accessories is much better.
This wasn't actually the first time that I'd shopped in Forever 21, I did in fact make a trip to Forever 21 whilst on holiday in New York and I was disappointed at the time given all the hype that had been generated by my friends. I thought that the clothes were nice, but nothing out of the ordinary, and I was puzzled when I saw my friends rushing in and leaving with several large bright yellow bags. With the black lettering of 'Forever 21' and the shade of yellow it just reminded me of a caution sign and so I stayed away; thankfully, they have not brought these bags to the UK, instead they have some rather nice fluorescent pink plastic carrier bags. This was my first impression of Forever 21.
Now; however, my views have completely changed. I thought that the shop itself had a nice layout and feel to it, it wasn't boring. There were tables laid out with clothes and jewellery, a vintage looking van, sparkly floors and nice mosaic style design above the checkouts. The staff were friendly and helpful, they offered their opinion on the clothes I was trying on without me asking for it (obviously they're just trying to sell the clothes, but this was nice nonetheless). If you're wondering why I wasn't in a changing room it's because the queues for the fitting rooms were miles long. This, along with the long check out queues, is probably the only thing that Forever 21 has in common with Primark.
The clothes themselves are fashionable, made of a good quality and very affordable. Perhaps the cheaper prices will make Forever 21 rivals with Topshop, we are in a recession after all. The shop has three floors and all are fully stocked and packed with new and trendy items, there is so much choice you could probably spend half a day in there. I'll definitely be shopping here instead of Primark when I'm looking for something trendy but cheap, the prices may be slightly (but not much) higher but I cannot express how much better the quality of the clothing is.
If you haven't already been down to Oxford Street to check out the new store I highly recommend you do!
By the way, I just discovered this site that I thought was rather cool and useful. It's basically a street map that shows you where all the shops on Oxford Street are located, the layout is similar to that of a timeline. Check it out:
Street Sensation: Oxford Street.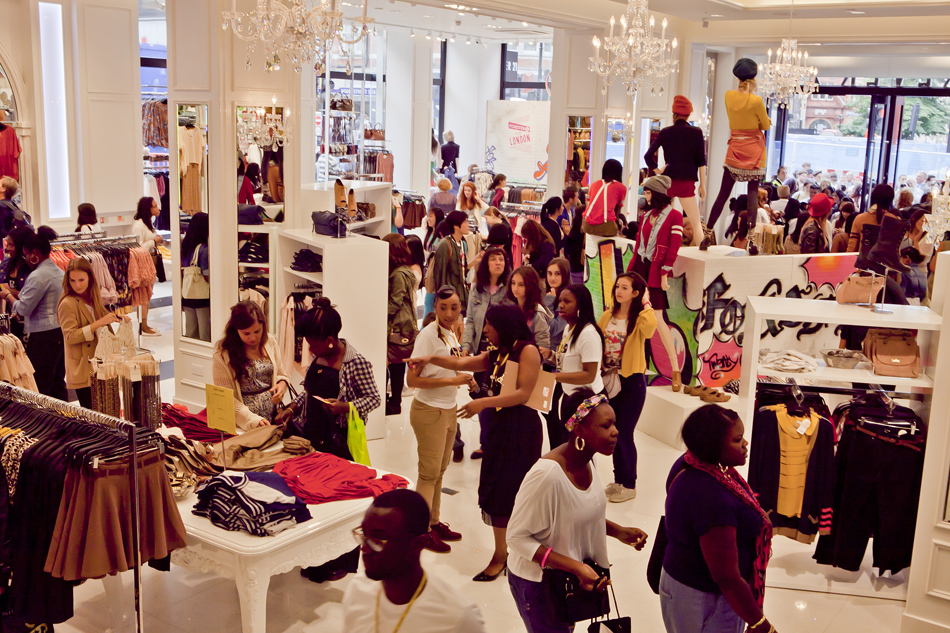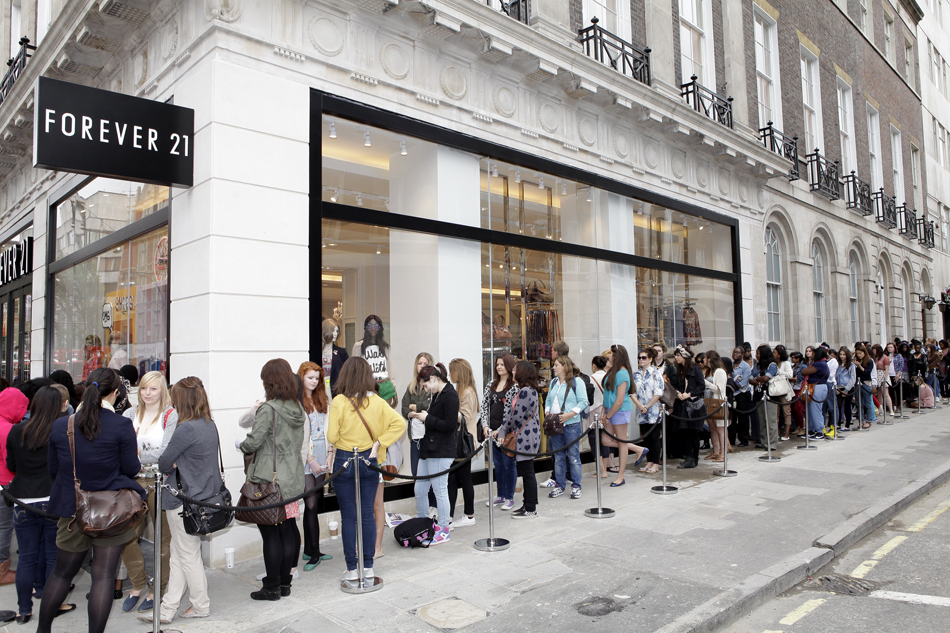 Pictures from the opening on Oxford Street - 27th July 2011.
{ Fashion//Beauty Reviews } , 20th Century Fashion , America , Forever 21 , New Shop , Oxford Street , Shopping , USA